Als je ooit in een Nederlands casino bent geweest zal het je al wel opgevallen zijn; er worden maar weinig foto's en films gemaakt door de mensen binnen. Dit betekend niet dat er helemaal geen beeldmateriaal gemaakt mag worden. Het betekent alleen dat het maken van video opnames of foto's niet altijd mag.
Zoals de regels van Holland Casino zelf al zeggen is het maken van video of beeldopnames alleen toegestaan tijdens poker toernooien of events waarbij Holland Casino zelf toestemming heeft gegeven. Dit gebeurt bijvoorbeeld bij officiële toernooien, waarbij alle spelers zijn geïnformeerd dat er video opnames gemaakt kunnen worden, en hier toestemming voor is gegeven. Dit is natuurlijk ook logisch, zeg nou zelf, wil jij dat iemand anders video's van jou aan het maken is zonder jouw toestemming? Je kunt bijvoorbeeld in Casino Sieger spelen en helemaal niet om dit probleem geven.
Officiële toernooien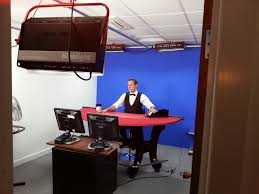 Wanneer er geen officieel toernooi aan de gang is, ligt het vaak aan het casino zelf of het maken van foto's en video opnames goedgekeurd worden. Als het maken van foto's en video's compleet verboden is staat dit altijd in het reglement van het casino. Casino's mogen namelijk zelf de regels vaststellen, het is immers privé eigendom. Er zijn sommige casino's die het maken van video's en foto's juist promoten, zolang je de andere spelers niet lastigvalt. Maar in veel Nederlandse casino's is dit niet het geval. Vaak is een van de huisregels dat het maken van beeldmateriaal verboden is. Dit heeft te maken met veiligheid en privacy. Casino's willen hun klanten zo goed mogelijk beschermen, maar ook liever niet dat er foto's en video's worden gemaakt van de werknemers/delers of het geld dat op tafel ligt. Voor een hele lange tijd was het erg normaal dat er helemaal geen beeldmateriaal gemaakt mocht worden in casino's, maar door de opkomst van smartphones en kleine digitale camera's wordt het steeds lastiger om dit te reguleren. Foto's worden snel en onopvallend gemaakt, en kunnen, indien nodig, altijd gecheckt worden door het casino personeel of ze geen schending maken van de privacy van andere spelers of de werknemers van het casino.
Speciale omstandigheden
Dat er niet zomaar foto's en video's in casino's gemaakt mogen worden, betekent niet dat er onder andere omstandigheden helemaal geen foto's of video's gemaakt mogen worden. Zo zijn er verschillende manieren om toch opnames te mogen maken binnen casino's. De makkelijkste weg is natuurlijk om het personeel van het casino te vragen of je beeldmateriaal mag opnemen, bijvoorbeeld wanneer er geen andere mensen bij een tafel staan, of buiten het spelen om. Ook tijdens grote officiële toernooien is het vaak prima om video's te maken. Wanneer je het netjes overlegd kan het makkelijk zo zijn dat je toch een paar video's kan opnemen zonder problemen.
Is fotograferen of videos maken in casino's legaal?
Wanneer je toch video's maakt in een casino let er in elk geval op dat je geen andere casino gasten of delers op beeld hebt, zodat je geen privacy schendingen maakt. Het maken van video en ander beeldmateriaal is misschien tegen het reglement van het casino, maar het is niet illegaal. En het casino zal in de meeste gevallen gewoon vragen of je wilt stoppen met opnemen wanneer ze door hebben dat je aan het filmen bent. Soms moet je de opname of foto dan ook wissen, dus let op!