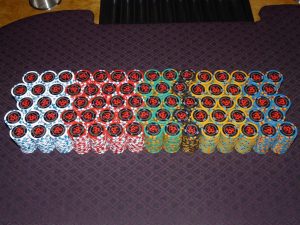 Voordat ik begin: het aller, aller, aller belangrijkste is dat je vooraf controleert of vraagt of je foto's in het casino mag maken! En we hebben het niet over een online casino. Je wil niet als de volgende Ocean's Eleven het casino worden uitgezet. Met bijbehorend casinoverbod. Problemen voorkomen werkt vele malen beter dan problemen oplossen. Vraag eerst of kijk eerst of je in het casino foto's mag maken! Ik geeft deze waarschuwing, aangezien je niet de eerste zal zijn die door een paar boos uitziende beveiligers het casino wordt uitgegooid omdat je een foto maakte.
Als je toch foto's gaat maken waar het strikt gezien niet mag, houd dit dan in je achterhoofd: Gebruik een kleine camera. Dat valt minder op. Snel een foto maken zal niemand merken. Als je uitgebreid gaat filmen of je compositie probeert te vinden… Tja, dan loop je snel tegen de lamp. En zorg dat je flitser uit staat. Vooral de wat traditionelere casino's hebben wat tegen fotograferen.
Goed. Nu dat dit is gezegd: de tips:
Tip 1: Vraag om toestemming
Mensen die naar een casino gaan zijn vaak gesteld op hun privacy. Wanneer je foto's maakt van mensen of een foto maakt waarop mensen gaan staan: vraag eerst even om toestemming. Scheelt een hoop gedoe achteraf. Meeste beveiligers kennen geen humor en als je pech hebt, heb een casinoverbod aan je broek kleven. Dat is die ene prachtige foto meestal niet waard. Zeker niet als het casino vervolgstappen onderneemt. Dat zal vrijwel nooit het geval zijn overigens. Maar het is wel een risico.
Tip 2: Maak geen foto's waarvan je later niets over gaat schrijven
Maak foto's van dingen waarover je later kan schrijven. Als je blog uitsluiten over slots gaat, is het leuk om zo nu en dan wat kaarten te zien. Maar een foto van de lokale paardenrenbaan… Dat heeft niet zoveel met je blog te maken. Ken het publiek van je blog en maak daarvoor passende foto's.
Tip 3: Ken het spel of de sport
De beste foto's zijn beelden waarvan de fotograaf van tevoren wist dat ze zouden komen. Niet omdat hij zo snel kon reageren om een foto van het moment te maken. Als je een slotmachine gaat fotograferen, moet je weten hoe deze werkt om de actie goed vast te leggen. Hetzelfde geldt voor kaartspellen. Je moet de situatie kunnen lezen om de actie en de spanning van het beeld goed op de foto te krijgen. Dit doe je door ervaring op te bouwen. Weet wanneer de dealer de kaarten uitdeelt, de spanning van spelers die op het punt staan te winnen of te verliezen het grootst is. Dat moment wil je zo goed mogelijk uitdrukken op de foto.