Op het gebied van fotografie zijn er een paar duidelijke trends te ontdekken. Dagelijks worden er ongeveer 1.8 miljoen foto's gemaakt ter wereld, en daar kan je goed aan zien wat populairder wordt en wat minder goed werkt. Door de foto's die gedeeld worden op social media te analyseren, en te kijken wat het goed doet en wat niet kunnen wij zien welke trends we kunnen verwachten in het komende jaar.
Smartphones vs. Fotocamera's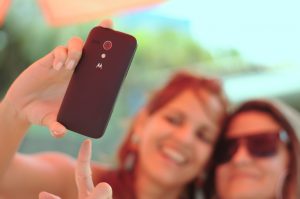 Een van de grootste veranderingen op het gebied van fotografie is dat de smartphone cameras echt steeds beter worden. Trouwe DSLR gebruikers willen hier waarschijnlijk niet aan geloven, en of ze de DSLR camera's helemaal aan het vervangen zijn is natuurlijk nog maar de vraag. Maar we moeten toegeven dat smartphone camera's steeds beter worden en ze langzamerhand niet meer onderschat mogen worden. Zeker door de snelle mogelijkheden om foto's via smartphones meteen te bewerken en te posten. Maar ook de handzaamheid van een smartphone in vergelijking tot een grote DSLR camera. Nieuwe telefoons hebben steeds meer opties om zelf instellingen aan te passen. Zo houd je toch nog een kleine vrijheid. Ook de frontcamera wordt steeds beter en komen er steeds meer gadgets bij voor fotografie met smartphones. Denk bijvoorbeeld aan beeldstabilisators voor selfiesticks en goede statieven voor telefoons.   
Dat de wereld van fotografie op let zie je meteen. De camera's die niet op smartphones zitten worden dan ook steeds kleiner en krijgen meer functies om snel foto's te delen. Zo zijn de meeste nieuwe camera's tegenwoordig uitgerust met bluetooth wat meteen de mogelijkheid geeft om een connectie te maken met laptop of tablet, en de foto meteen gedeeld kan worden.
Video's
Dat fotocamera's tegenwoordig ook video's kunnen opnemen is al een tijdje zo. Video is namelijk steeds populairder aan het worden. Ook korte video's en gifjes zijn in omloop en worden vaak gemaakt met normale fotocamera's. Maar ook mogelijkheid om 360 graden te fotograferen komt steeds meer voor, nog niet van de beste kwaliteit, maar wel erg leuk!
Fotobewerking
Je zult daarnaast al wel gemerkt hebben dat filters en overbewerkte foto's niet meer kunnen. Fotografie wordt steeds realistischer en scherper. De standaard filters van instagram of fotobewerkingsprogramma's zijn niet realistisch. Ook fotobewerking in Lightroom wordt minimaal gehouden.
Gadgets zoals drones en onderwatercamera's blijven natuurlijk in beeld. Zeker omdat reisfotografie een van de populairste media is van dit moment. Vliegreizen zijn steeds goedkoper aan het worden, en hierdoor wordt de drang om te reizen alleen maar groter. Fotografen, hobby en professioneel, trekken er op uit om de mooiste plekjes op aarde op de foto te zetten. Drones geven de mogelijkheid om prachtige beelden van je reis te laten zien die je anders nooit had kunnen maken.