Om op te vallen op social media is het belangrijk om prachtige fotos te maken. Beelden zeggen meer dan woorden. Iedereen kent de uitspraak " een foto zegt meer dan 1000 woorden" en zeker op social media is dit het geval. Maar hoe zorg je nou dat jou foto's opvallen tussen alle andere.
Misschien logisch, maar ten eerste is het belangrijk om scherpe en duidelijke foto's te maken. Zorg dat je camera of de camera van je telefoon van goede kwaliteit is. De kwaliteit van je foto's is belangrijk om ze goed en professioneel over te laten komen. Maar naast de kwaliteit zijn er ook nog allerlei andere manieren om de perfecte social media foto te maken.
Gebruik natuurlijk licht!
Gebruik wanneer het mogelijk is natuurlijk licht. Dit zorgt voor een krachtig en natuurlijk beeld. Overdag is er voldoende zonlicht, dus zorg dat je hier gebruik van maakt. Probeer in de buurt van een raam te fotograferen of ga naar buiten. Als je toch binnen wilt fotograferen en het licht is heel slecht is mijn tip om te investeren in een goede flitser. De flitsers die normaal op telefoons en camera's zitten zorgen voor een heel onnatuurlijk en hard licht. Goede flitsers of lampen kunnen dit verhelpen.
Ook kan je de belichting van je camera aanpassen op je telefoon. Nieuwe smartphones zijn tegenwoordig uitgerust met allerlei opties om prachtige foto's te maken.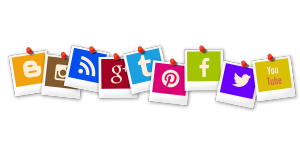 Let op perspectief
Het beeld kan je foto maken of breken. Experimenteer met nieuwe hoeken, zoals een lagere horizon of schiet een foto van bovenaf. Dit zorgt voor een opvallend beeld. Heel vaak worden foto's in portretstand gemaakt, je kan opvallen door mooie landschap stijl foto's te maken. Sowieso handig, want portret stijl past niet geheel op het scherm van veel telefoons, dus bij landschapsstijl val je nog meer op. Je kan, als je een Iphone gebruikt de 'grid' optie aanzetten. Hierdoor kan je beter in het oog houden wat op welke manier op je foto staat. Speel ook met scherpte diepte, door te focussen op een onderwerp, zeker bij portretten, krijg je een heel ander en prachtig beeld.
Persoonlijk en echt!
Foto's op social media zijn niet voor niks 'social'. Probeer dit ook in je foto's over te laten komen. Zet bijvoorbeeld gezichten duidelijk op de foto. Dit laat zijn wie jij bent. Je maakt hierdoor je foto vriendelijker en persoonlijker. Laat ook jou echte zelf zien op social media. De tijd van de instagram filters loopt nu toch echt tot een einde, en populaire foto's zijn tegenwoordig minimaal bewerkt. Zorg ook voor een eigen stijl van fotografie. Herkenning is belangrijk voor volgers en creëert het gevoel van bekendheid.
Het maken van prachtige foto's is belangrijk voor social media. Beelden zeggen veel meer dan text. Zeker wanneer je maar 2 seconden hebt om op te vallen. Zoals we hierboven al genoemd hebben, het maken van een mooie foto is belangrijk. Zorg ervoor dat je een persoonlijke stijl hebt. Zo kan je opvallen en vertrouwen kweken bij je volgers. Ook door jezelf op de foto te zetten en te laten zien wie jij bent. Let op het perspectief bij het maken van een foto, speel met verschillende hoeken en scherptes en kijk wat het beste past bij je foto. Daarnaast is natuurlijk licht en goede kwaliteit beeld van enorm belang om een goede foto te maken. Veel plezier met opvallen en fotograferen. Succes!